Life Drawing: Sherry with the Scarlett Nails. Odalisque. Thursday Night, March 20, 2014
March 20, 2014. Thursday night at Medi's FMA Studio in Costa Mesa, California. I have been away from the studio, working on The Waldorf School of Orange County 2014 Annual Gala and Auction. Now that the event was recently over and successful, I looked forward to drawing again. I even sold a piece of my artwork at the event this weekend!
I came into the studio late tonight. I was a little flustered, I changed easel heights and locations. Drawing is a form of meditation for me. It took some time for focus to return. I cherish this allocated time in the week to create. I mourned the minutes lost from sketching. There were fellow artists who were helpful, which was nice. Soon, I was back into the flow of things.
10 minutes pose in pastel.
10 minutes pose. Colored charcoals.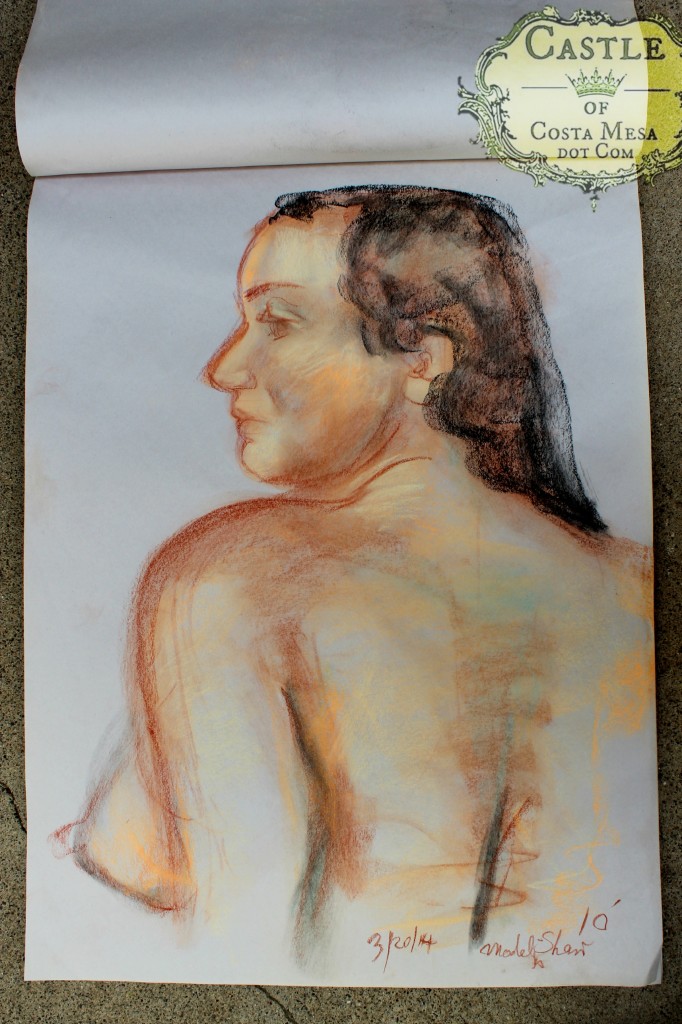 I whipped out my paints for the anticipated long pose.
Sherry, the Odalisque. Incomplete. Work done so far by 10pm.
There is at least one egregious part of the painting above that awaits correction. I was eager this night to experience paints and colors and should have spent more time with the composition first. I am letting it be until I have time to work on it again.
Creating art is about making choices with attentive listening during the process. This evening, my heart was shouting its impatient eagerness to play in paint, and I ignored the voice telling me to be more deliberate and hesitant in choosing a better easel location and vantage point. By the end of the night, my composition was very static. But I did enjoy playing in colors.
I love that our model painted her nails red. In my past scientific research/ transgenic animals work, we had to psychologically catergorize and dehumanize our laboratory animals when we harvested organs from them. As members of civilized society, we also tend to pigeonhole, objectify or otherwise keep artificial distances from peoples in certain social transactions. In life drawing, an at least initial polite distance is maintained between the artists and the models who rotate through the studio. By not knowing anything about the artist's model as a human, we treat them like soul-less fruits, surfaces to copy the behavior of light bouncing off their contours. Although this not-knowing creates a silenced mystery that is creatively helpful, it is also another example of how our modern society can be disconnected and sometimes fellow humans could be treated like collections of discreet objects. In some ways, this is akin to medical students studying discreet parts of identity-less cadavers. The scarlett nails reminded that this model is a human with her unknown personal life. She is beyond the object proffered for the night for our painting exercises.
Scarlett nails.
Thank you Sherry for posing for us today! – Jzin
About Medi's FMA Art Studio in Costa Mesa, CA.
Life figure drawing sessions are free for new artists at Medi's studio. This studio even provides monster boards, newsprints, charcoals to welcome the new folks. The fee for the 4 hour (7pm-10pm) life drawing session for the rest of us is $10. Medi sometimes even serve the artists bries, cheeses, crackers, hot organic teas and wines. We are well taken care of. Contact Medi (below) for more information if you would like to join us in Orange County, California. – Jzin
Medi Bendanna, Frame My Art Studio in Costa Mesa, California.
e-mail: bendanna@gmail.com
cell: 949 836 8273
They also frame art works: https://www.framemyart.com/
…
Click below to see my other works.
Please "like" my facebook page, so you will be able to see my future works. Thank you!
Click here to view my masterpiece studies.