Life Drawing: The Sultan's Guard in Nude. Thursday Night, February 23, 2014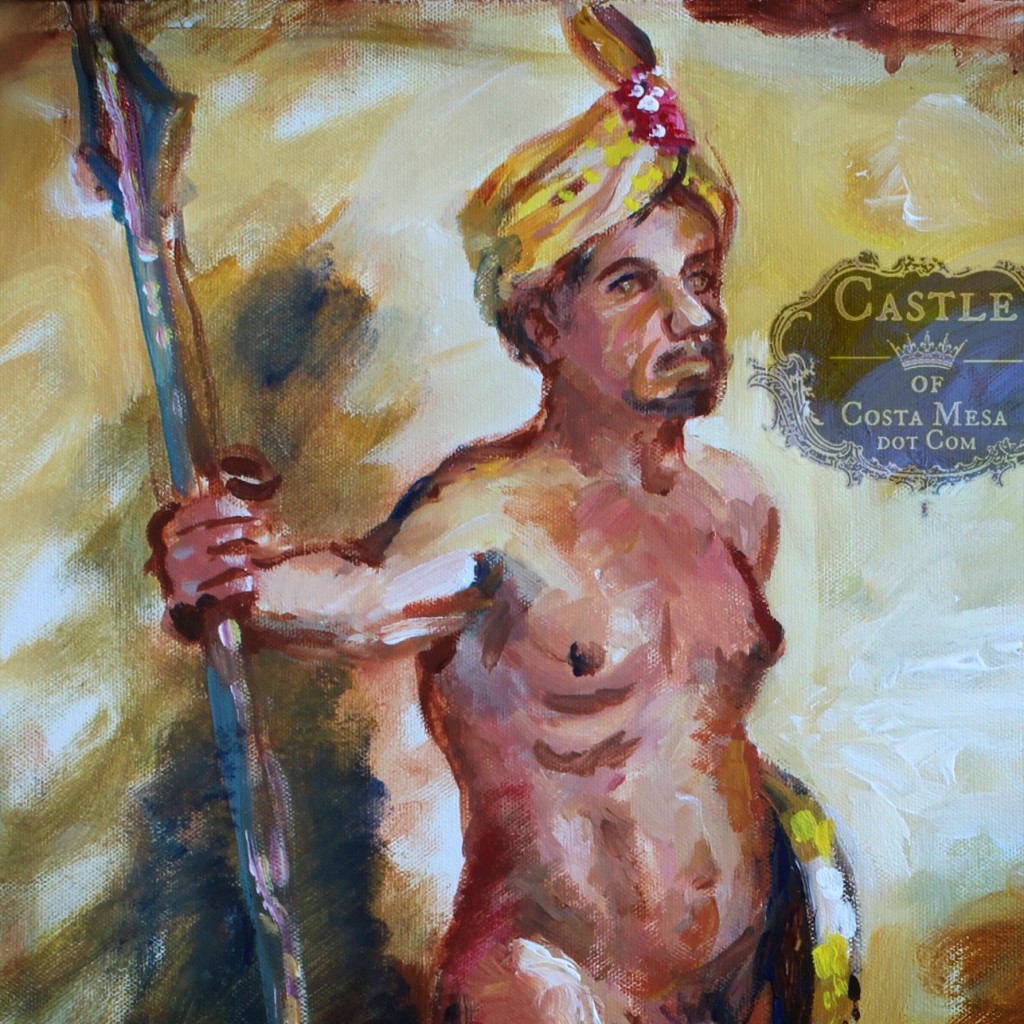 Thursday night. January 23, 2014. I have been looking forward to drawing at the studio this week. Yet with the series of events that happen throughout the day, I felt sad (my boys not well) and reconsidered it. However, since I promised Alena to give Nezahat a ride home, I had to go. Due to my little kindness (of promising a ride to my Kurdish friend), I am saved. Again, I enjoyed every morsel of drawing time at Medi's FMA studio. Thank you Medi!
Tonight at Medi's FMA studio, the model is nude and in character. He is Len.
I came in late and Medi had restructured the lengths of the poses. Just when I happily thought I was more skillful and able to add more in during a 5 minute pose, I realized, we started with a 10 minute pose.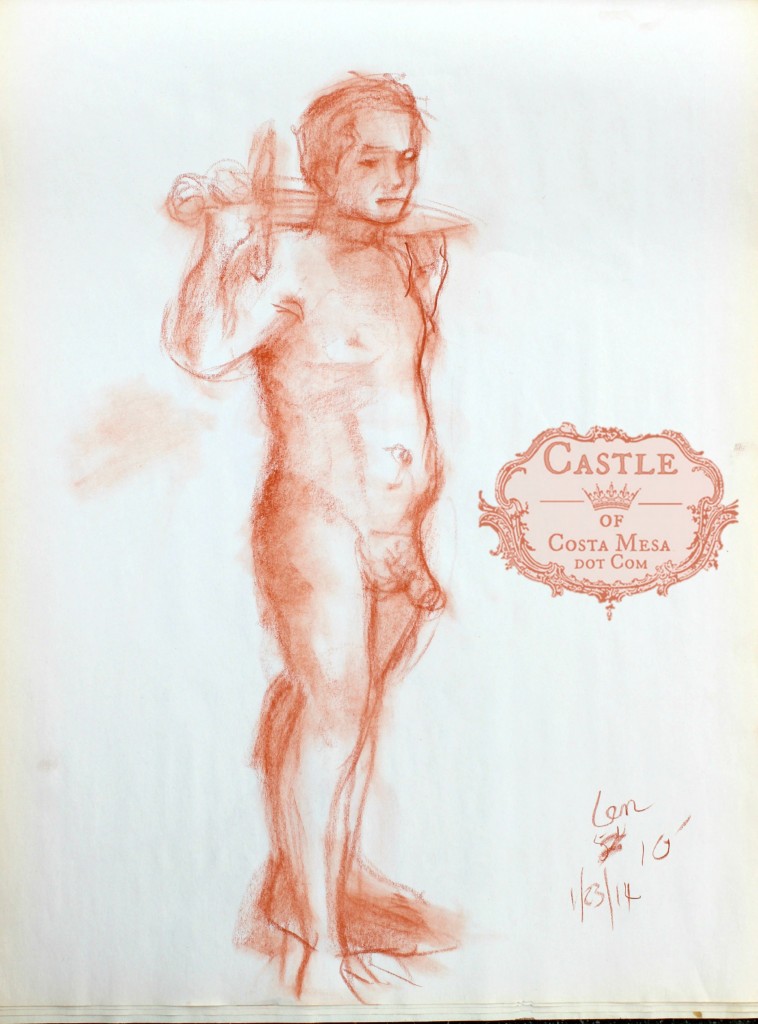 … another 10 minute sketch. Wow! Much more time that those 2′ ones.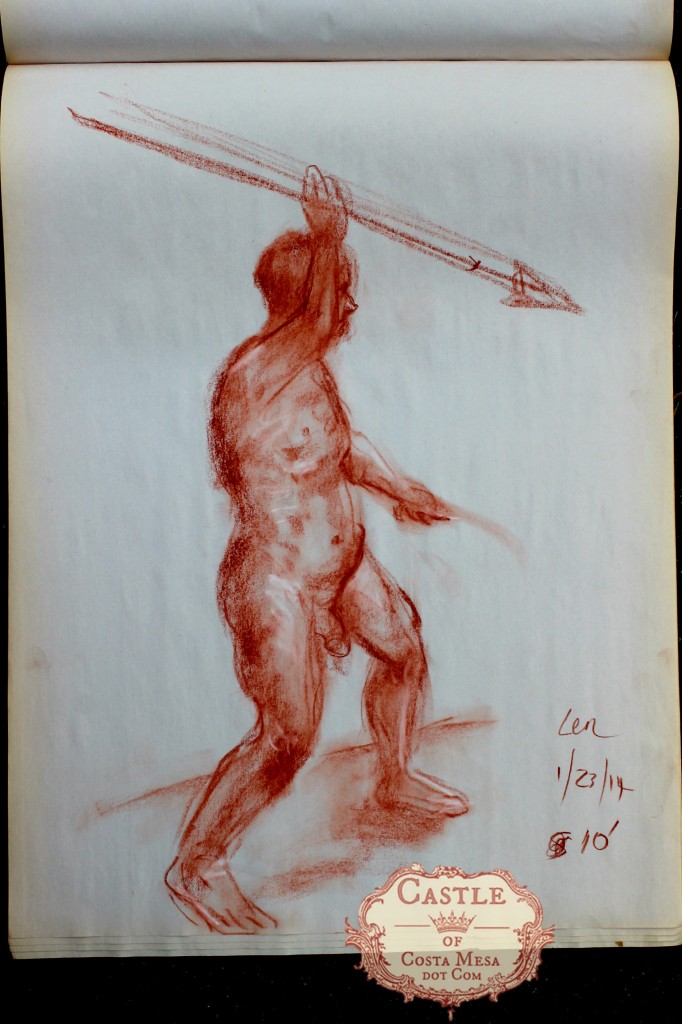 Thank you Len for holding that pose for 10 minutes!
Lo and behold, 2 warm ups later, it's time for long pose. I decided to whip out my paints. I drew directly onto my canvas paper without pre-sketching. The intention is to free myself from the temptation of trying to achieve a smooth surface finish for now. I am reminding myself to make every stroke placement, tone and color count. I am glad with maturity, I am finally pre-mixing my paints on my palette first before experimenting them directly on the canvas as I used to long ago.
Here is my (I think 1 hour or so ??) color sketch of Len as the nude Sultan's guard.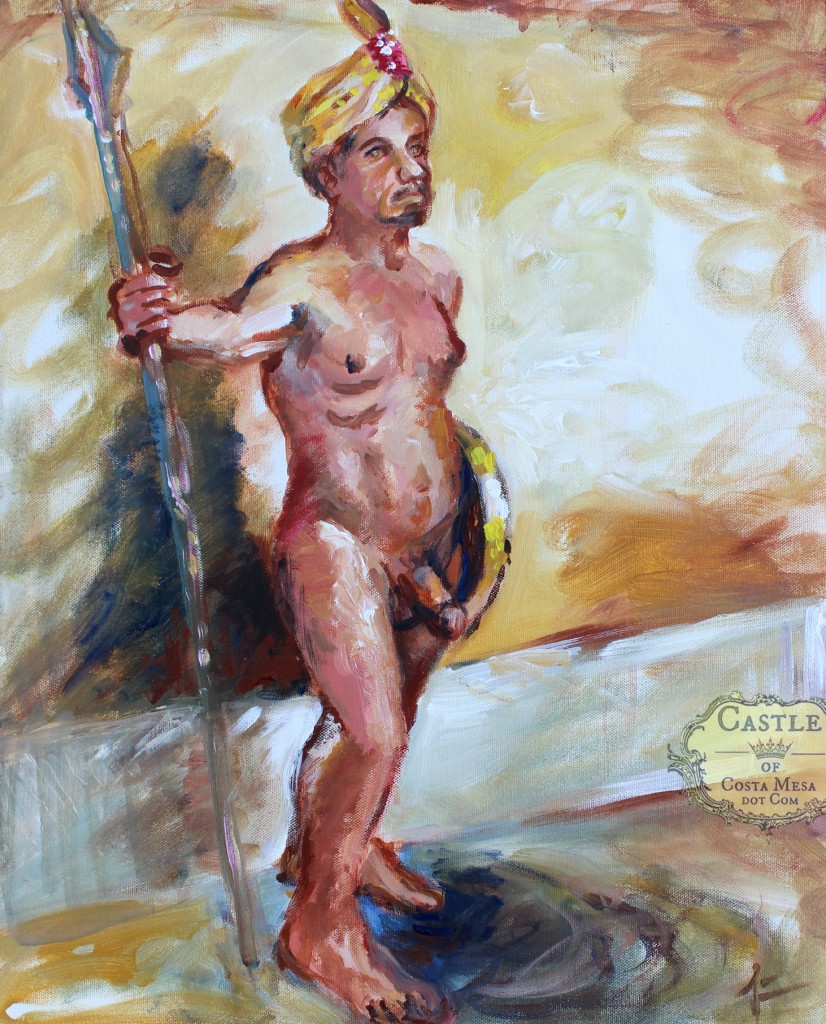 Hello color and tones! I want to understand the secrets to them.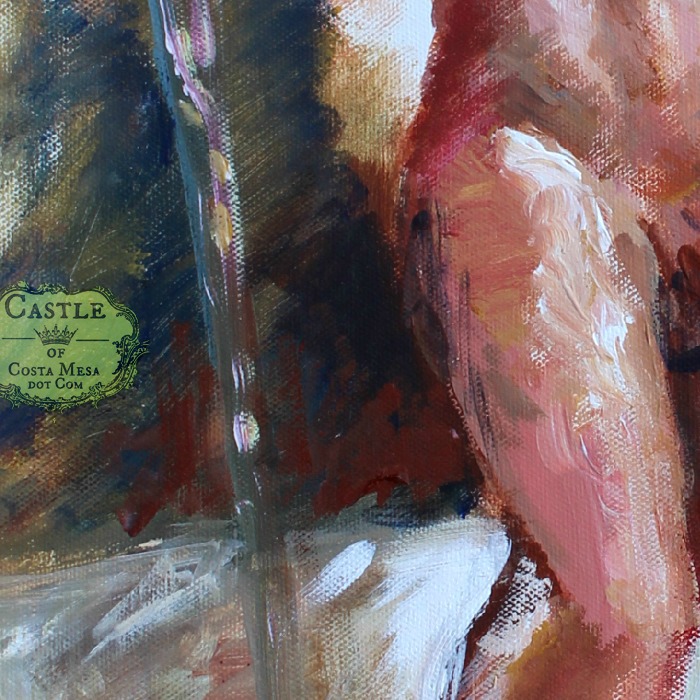 This was my quick color sketch of Anabelle, the spit curled flamenco dancer from last week. I am glad I did the color sketch, it took me away from being too fussy. It liberated me. Click on cropped image below to see the rest of last week's drawings of Anabelle.
I remembered the joy of reproducing Titian's Bacchus and Ariadne (many, many years ago). The colors that show up on the skins on Titian's painting! Here Tonight, I have a real model Len to copy from.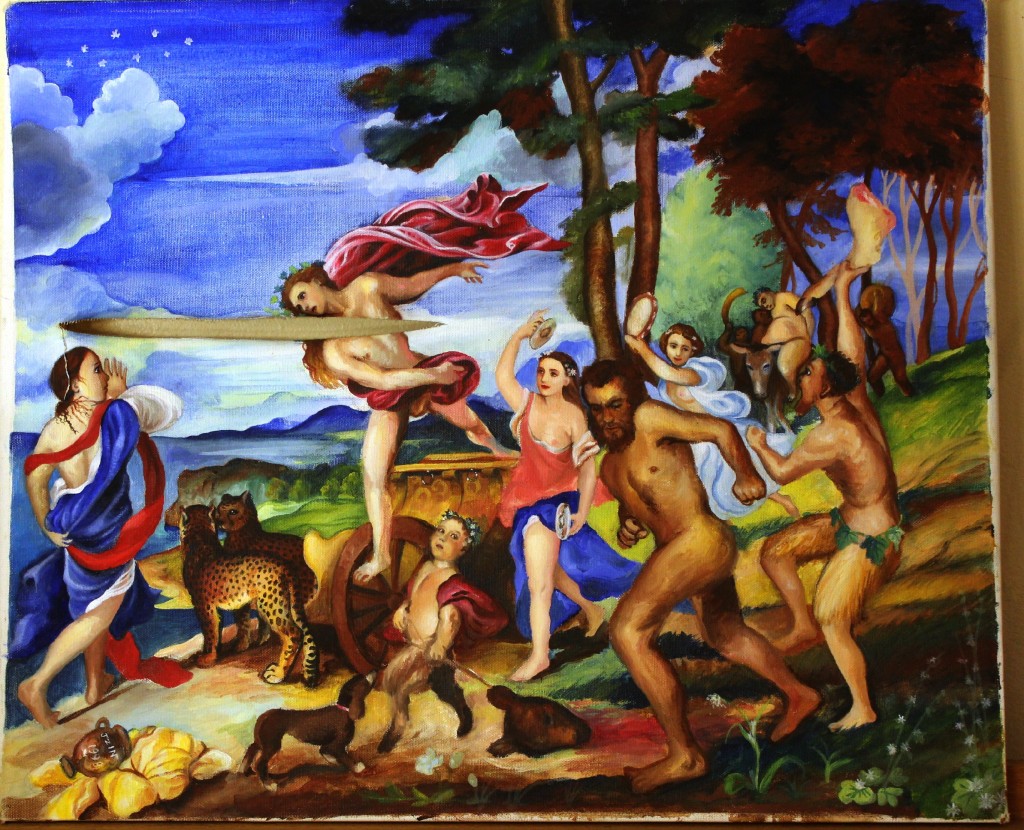 Jzin's reproduction/study of Bacchus et Ariadne by Titian. I know, my Laocoon is snakeless. I did not get around to adding snakes.
I decided to stop. I looked around and realized that when the model is a man, the male painters leave early. There was some paint left and there was less than 20 minutes left, so I whipped up a piece focusing on Len's face. This piece will never be finished now. Alas, I think my painted man is too Caucasian in this painting to be wearing a turban.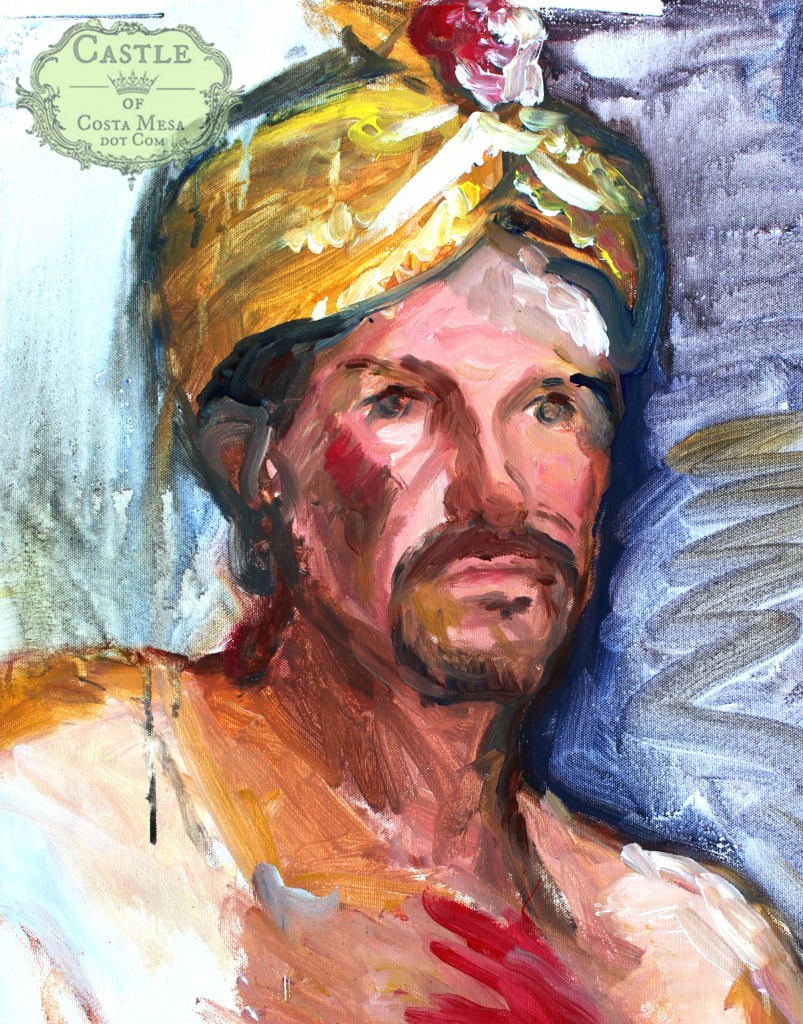 The last, the perpetually incompleted painting of the night.
I remembered to put tips in the tip jar. Did you? That hot mint tea was good! Thank you Medi for taking good care of your painters! Thank you Len for this leg of my creative journey!
Jzin, January 2014. Costa Mesa, California, USA.
…
I gave my Kurdish painter friend Nezahat a ride on the way home. Now my vocabulary has increased to 2 words: "uçak" (airplane) and "çok güzel" (another word that comes with a thumb pointing skyward).
On the night drive home, Nezahat and I connected on the impossibility of sketching male nudes in our respective Muslim countries of origins. With so few words we could both undertstand between us, we also managed to survey the global pattern of adult vs infantile male circumcision and concluded (like most non-experts do, with confidence) that the pervasive infantile circumcision in America stems from the prominence of Yahudi culture in the American medical field. Nothing bonds two strangers like some shared prejudices. I think we agreed on something, despite standing across a wide river of language difference. With that success, I gave up further conversations and sang 羅大佑's 戀曲1980 and some of his other very old sappy ballads on the night drive to drop Nezahat home.
…
About Medi's FMA Art Studio in Costa Mesa, CA.
Life figure drawing sessions are free for new artists at Medi's studio. This studio even provides monster boards, newsprints, charcoals to welcome the new folks. The fee for the 3 hour (7pm-10pm) life drawing session for the rest of us is $10. – Jzin
Medi Bendanna, Frame My Art Studio in Costa Mesa, California.
e-mail: bendanna@gmail.com
cell: 949 836 8273
They also frame art works: https://www.framemyart.com/
About our Artist's Model for this evening:
Len Nissenson is a professional artist's model with a BA in Art History from the University of California, Irvine. He is also a painter. Len uses simple props and costuming elements in nude poses to clearly define the story he is posing.  He states, "I think it is the model's responsibility to define the pose for the artist, and it is the job of the artists to take the pose and interpret it further, according to their own needs and desires."
e-mail: nissenson@aol.com

Figure/ Life Drawing
Click here to view my life drawing works.
Master Studies
Click on the painting below to view my self-studies copying the masters.

Please "Like" my art work on Facebook
Please "like" my facebook page, so you will be able to see my future works. Thank you!

Jzin's Paintings
My paintings.