Life Drawing with Vanna Mae. Thursday. January 9, 2014
January 9, 2014. It has been about 4 years that I have not drawn. Out of the blue today, I decided to accompany a visiting Kurdish painter who speaks very little English (and I, virtually no Kurdish) to a life drawing session in town. So I went. Just like that, after such a long time of not drawing.
Our model for the night was Vanna Mae. Here is my long sketch of her. This piece was done without any erasing because I do not know where is my kneaded eraser is after all these years.
This drawing is now available for purchase on Etsy.com.
Detail of the above drawing.
Our beautiful 23 year old professional artist's model on her break. I really like her and gave her a big tip. She is very professional. Here she stood with my 20 minute sketch of the above drawing.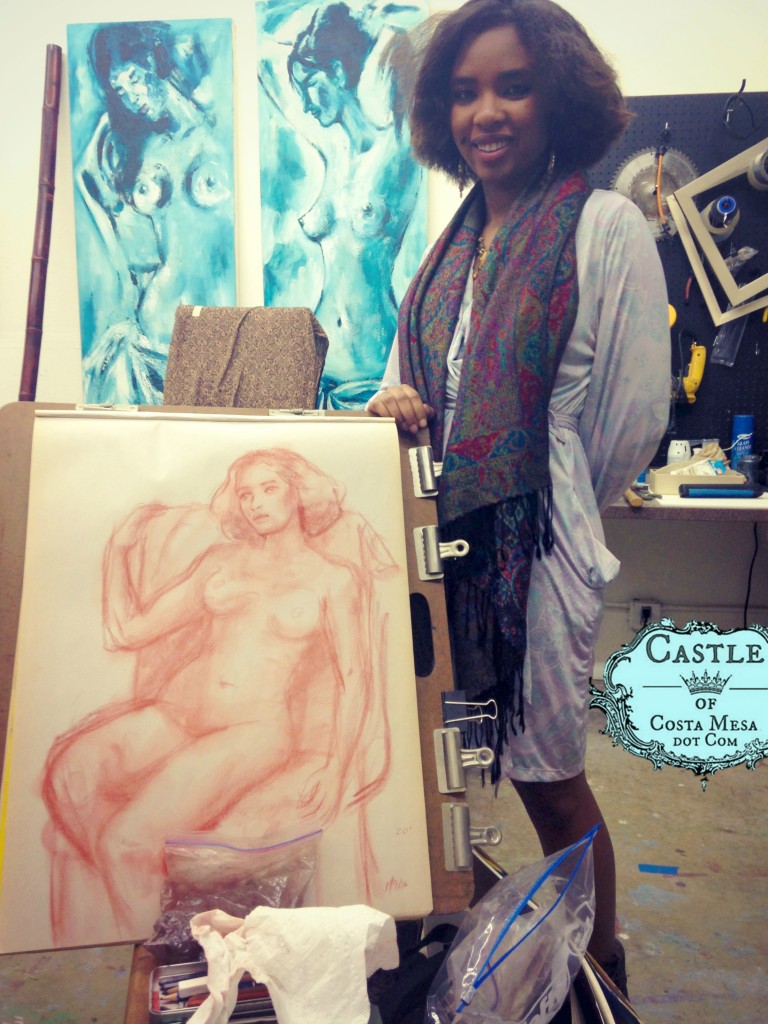 detail of the above. 20 minute sketch in sanguine.
Alena asked, why do you sketch so fast, Jzin. I live this way. I have to act fast, I have such a life that I am on call around the clock and can be called away from my present activity at any moment, to be thrown into a violent vortex of despair, without notice. Like Cinderella, I have to dance fervently, to make it count, in a frenzy and to the last drop because presently I see my personal time as very finite.
Here are the quick warm up sketches done earlier in the night. 5 minute sketch of Vanna Mae.
Here is my 10 minute sketch of Vanna Mae.
This picture (full size, without the seal ) is now available for purchase on Etsy.com. Click on the image below to shop.
Click here to see my second time working with Vanna Mae: Vanna Mae as Queen Vashti.
I relish every moment of this life drawing session and have to thank Medi Bendanna at FMA for organizing this. Thank you Medi! – Jzin
…
About Medi's FMA Art Studio in Costa Mesa, CA.
Life figure drawing sessions are free for new artists at Medi's studio. This studio even provides monster boards, newsprints, charcoals to welcome the new folks. The fee for the 4 hour (7pm-10pm) life drawing session for the rest of us is $10. Medi sometimes even serve the artists bries, cheeses, crackers, hot organic teas and wines. We are well taken care of. Contact Medi (below) for more information if you would like to join us in Orange County, California. – Jzin
Medi Bendanna, Frame My Art Studio in Costa Mesa, California.
e-mail: bendanna@gmail.com
cell: 949 836 8273
They also frame art works: https://www.framemyart.com/
…
Click below to see my other works.
Please "like" my facebook page, so you will be able to see my future works. Thank you!
Click here to view my masterpiece studies.